Recipe updated February 2013; a few fixes for a better cake pudding.
Rhubarb rocks and rules in my garden and kitchen.  As spring's first crop, the cheeky stalks burst forth like delicious red exclamation points begging to be plucked. I happily oblige.
Ready for its bath, uh, water bath I should say.

Seasonally sublime: Fresh is best
I'm always on the lookout for great seasonal recipes for my garden harvests. Rhubarb is a particular favorite because the recipes are usually homespun, easy and delicious. The fruit choice of church socials and neighborhood potlucks, a rhubarb dessert is just as American as any apple pie. (Bring on the John Philip Sousa!)
Rhubarb Berry Cake Pudding from the Great State of Washington (blueberries added for good measure)
The New York Times Heritage Cook Book (a great garage sale find ) features this (adapted) recipe from my home state. Part pudding, part cake, it's all delicious, especially if you like a little goo factor in your sweets.
Rhubarb Berry Cake Pudding
Print recipe
| | |
| --- | --- |
| Serves | 4-6 |
| Prep time | 15 minutes |
| Cook time | 45 minutes |
| Total time | 1 hour |
| Meal type | Dessert |
Rhubarb Berry Cake Pudding is a wonderfully gooey, cakey treat. The dessert gives you a little sweetness and a little pucker, and a whole serving of doughy goodness.
Ingredients
2 cups Sugar
1/4 cup Flour
2 tablespoons melted butter
2 cups milk
1/4 teaspoon salt
4 eggs (separated)
1 cup rhubarb
1 cup berries (your favorite type)
Directions
Step 1
Preheat oven 325 degrees.
Bowl 1: Combine 1.5 C sugar with flour

Step 2
Bowl 2: Mix together butter, milk, and salt
Step 3
Combine bowl 1 and bowl 2
Step 4
Toss rhubarb and berries with 1/2 Cup sugar.
Add rhubarb and berries to lightly beaten egg yolks and then add all to combined bowl mixture, and incorporate gently

Step 5
Whip egg whites until stiff but not dry. Fold egg whites into combined bowl mixture and pour into greased shallow baking dish (or individual cups). Sprinkle with sugar

Step 6
Set pan in a larger water bath pan, and bake for 45 minutes. Serve warm with vanilla ice cream (or Creme Anglaise if you fancy something fancy).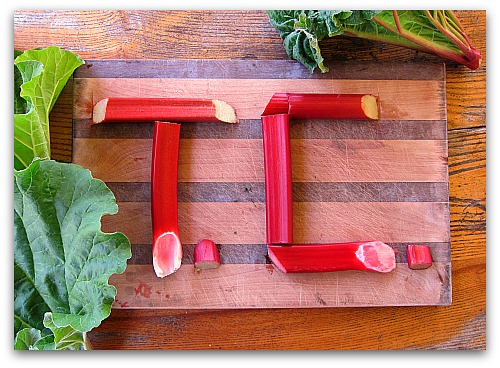 I love to play with my food.
Need I say more? Enjoy!