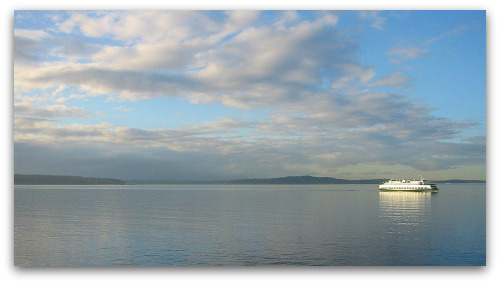 A Washington State ferry plying the protected waters of Puget Sound.
Journeys rarely make sense and mine is no exception. Lucky for me, I drifted ashore on Vashon Island, a sweet spot moored in the middle of Puget Sound, home to the quirky, the kind, and the unabashedly laid back. A stunning ferry ride from West Seattle or Tacoma, Vashon Island is just inconvenient enough to deter the impatient and cultivate the eccentric.
A February sunset takes its final bow over Vashon Island.
The Vashon Island chapter of my story began many years ago. As a first time visitor, I dug my toes into the sand of a west-side shore on a fine summer day in the company of good friends. My drink chilled by an incoming tide, my heart warmed by an outpouring of island charm, I was smitten. Our tall tales and laughter echoed down the beach and followed the sun's descent to the farthest reaches of the Olympic range. The onset of dusk could not quell the hospitality of the day, so a starry night sky took over the next watch. Chill, darkness and decorum were no match for the fun we were having; the revelry continued until the last ferry called.
Dockton Harbor on a sunny summer day.
Surrounded by the beauty of nature, embraced by the richness of friendship and pampered by the gift of abundance, I succumbed to Vashon's spell that day, setting in motion years of incurable daydreams about my future island life. I was to return again and again, knowing one day I would reverse the direction of my ferry route and call this special place home.
As a local fixture (actually everyone's a local fixture here), I love Vashon for what it is not: an island impressed with pretense. Dressed-up is a shirt with a collar and no coffee stains. A flat tire is just another way to make friends. A puzzled look in the produce aisle will get you five recipes and a dinner invitation. Hip is a term we reserve for other ferry routes.
Friendliness never goes out of style.
Vashon is an island where no bumper is safe from an sticky quip, where unicorn decals and dream catchers festoon cars with greater frequency than smashed bugs, where power outages fuel friendships and Scrabble games by candlelight, where a nice ride is any vehicle with a muffler and a seat belt, and where the potluck is a time-honored tradition and high art form.
Living on an island does have its challenges, but it also has its rewards, revealing special moments that speak to the kinship of isolation and the camaraderie of everyone being in and on the same boat, so to speak.
While commuting by ferry creates bottlenecks and travel headaches, it also fosters a bond, an unspoken appreciation that someone else shares your round-trip seagoing odyssey, relative isolation and desire to enjoy this seaside Arcadia. Smiles and nods to strangers one day yield the like from those you now called friends.
At times when I've returned to Vashon after a long day in a less-welcoming place, I stand on the bow of the car deck for a wake-up call from the sea and sky, a salt spray slap that refreshes me better than any bracing aftershave. The ferry continues to clip along, occasionally stuttering below deck with chugs, rumbles and vibrations unique to the vessel. I savor the simple joy of nearing the island and watching the Olympic Mountains grow before my eyes, seizing the horizon and my imagination each time.
A 1919 journal entry found in my old farmhouse reveals an earlier resident was hooked as well, stating, "As a home place, there is no more pleasant or satisfactory location on Puget Sound." I couldn't agree more and extend my appreciation to the hand and heart who shared those words and these walls close to 100 years ago and no doubt pondered his or her own homecoming.
Home sweet home, gussied up for the Fourth of July
Vashon has been called The Heart of Puget Sound, a moniker as much about disposition as location. And not surprisingly as an island and a community, we wear our hearts right on our sleeves, sleeves that are well-worn and well worn, fashioned from threads that may dapple in tie-dye or be spun into pinstripe; be covered by a motorcycle jacket or trimmed in lace. The Heart of Puget Sound may follow its own beat, but the pulse is always one of welcome and delight for those lucky enough to drift ashore here.
Thank you for visiting Tall Clover Farm, from Tom
This post was originally written for Destination Vashon, 2011