Growing Puget Sound Peaches:  The Good, the Bad and the Ugly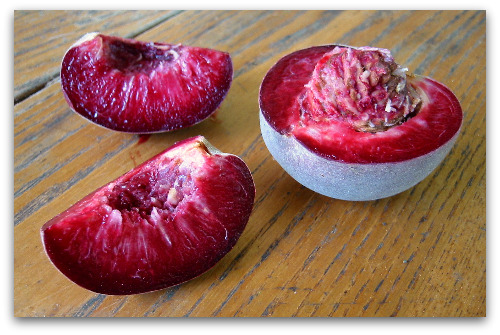 After trying to grow peaches this year, I think I may turn to something easier, like rearing silkworms or raising sea monkeys. My optimistic nature suffered as an unusually long, wet spring  hindered pollination, and cooler-than-average summer temperatures thwarted vigorous tree growth and fruit ripening. The final blow came when several trees just gave up and died (not counting the one I dispatched accidentally with a moving vehicle).
The Good

Indian Free Peach (above), Charlotte Peach and Frost Peach

About 10 peaches per tree and I'm not complaining

The Bad

John Muir peach
Avalon Pride

death by root rot or borer (not sure)

Oregon Curl Free

untimely death (kinda backed over it with the riding mower)

The Ugly

Kreibich Nectarine

promising first crop, until a late summer rain caused cracking and fruit split

The Kreibich Nectarine tree finally produced fruit and then a couple weeks before ripening, the rains came and  ruined the meager crop.

Peach Tree Report 2010 (including results from 2008 and 2009)

The following trees are peach leaf curl resistant varieties that I planted three to seven years ago on Vashon Island, which is Zone 8, a moderate climate that ranges from  35-45 degrees daily in January to 55-75 degrees in August.
Autumn Rose Peach
2010: Did not replant.
2009: Died. May it rest in peace. The tree was planted bareroot one year ago and it succumbed to peach leaf curl this spring and never recovered.
2008: Planted bareroot this spring, leafed out with a bit of leaf curl, new growth moderate
Avalon Pride Peach
2010: One tree died from a borer (no to be confused with a bore) or some form of root rot, but the other (in a sunnier, dryer location) is thriving. No peach leaf curl this year, and still no peaches.
2009: I love this peach and am not giving up on it. Good growth from one tree, minimal from the other. No leaf curl to report and no fruit set either. Again, this was a great backyard peach when I lived in Seattle.
2008: Steady growth, leaves good, minor leaf curl, no fruit set this year
Charlotte Peach (white flesh)
2010: The tree is thriving in full sun, and seems healthy, experiencing no leaf curl. The blossoms are diminutive and appear in early spring, so pollination is a challenge. I harvested two handfuls of peaches with delicious, white flesh.
2009: A big year for growth, stands about 12 feet high, and produced beautiful small peaches of high quality. I was surprised to see they were white peaches (a favorite of mine). I picked them a little green to thwart the raccoons, and they ripened very nicely off the tree. (Here's the technique and best way to ripen peaches off the tree.)  Not sure if this is the same as Royal Charlotte peach.
2008: Slow steady growth, slow to leaf out, minor leaf curl, no fruit set
Frost Peach (once called my Mystery peach)
2010: I can see why Frost is the most widely planted leaf curl resistant variety in the Seattle area; it's pretty reliable and flavorful. I picked about six pounds of peaches and enjoyed them all out of hand.
2009:  Finally seems happy in its transplanted place, with nice leaf and stem growth and six large and delicious golden peaches picked. It appears to be a Frost peach, the mainstay of PLC varieties and I can see why. Very nice peach.
2008: Transplanted from a garden where peaches had no place (gasp!); good growth three years later, no leaf curl, and two of my best peaches so far.
Indian Free Peach
2010: I love this peach tree because it pulls through no matter what. If suffered some leaf curl, but rebounded nicely. The skin of the peach is really tough which is to its benefit in keeping insects at bay.  No bumper crop this year, but picking a few of something is better than picking a whole lot of nothing. The flesh of the peach was intensely purple this year and wonderfully tart.
2009: Gorgeous healthy tree of 12 feet, a little twig die-off  here and there, but seems quite healthy, but no fruit set this year, only 3-5 peaches currently hanging on. It may be a biennial producer.
2008: Vigorous growth, beautiful ornamental blossoms, no leaf curl, harvested 30 medium to small peaches Oct. 12, thick fuzzy skin almost brown in color, juicy fruit, deliciously tart when shy of ripe, when ripe bursts with flavors of blackberry, plum and peach.
2007: Vigorous growth, leafed out with minor leaf curl, nice fruit set, harvested 6 small peaches on Oct. 2, superb flavor, gorgeous burgundy flesh.
John Muir Peach
2010: This tree was never really happy here and never exceeded five feet in height. I may try it again in a sunnier, dryer location, but for now, I'm bidding adieu to this Bay Area sport.
2009: minimal growth, leaves slow to appear, no leaf curl, minor fruit set (4 peaches), then fruit dropped. Tree is still only about 4 feet tall. I may transplant it this winter.
2008: moderate growth, leaves slow to appear, minor curl, no fruit set
Kreibich Nectarine
2010: Its best year ever in vigorous growth and fruit production. Unfortunately, the fruit is highly susceptible to splitting after rained upon. This could be a big problem for the Northwest grower, even though our summers are usually quite dry.
2009: A promising variety, very healthy, but no fruit set. Stands about 6 feet tall now and had a setback when it became the chosen entrée for some wayward deer.
2008: healthy growth, fully leafed out, very minor leaf curl, very young tree no fruit set
Oregon Curl Free Peach
2010: One tree died, but one in a sunnier location seems to be responding nicely. No leaf curl to speak of and the same can be said for its fruit production. I'm hopeful but not holding my breath.
2009: minimal growth of 3-4 inches, very minor curl, and one small sweet peach produced, not as productive as last year. I just planted another last winter in a sunnier, better draining location, and it is growing like gangbusters. It's all about location, location, location
2008: steady minor curl, nice fruit set, peaches small, taste sweet with tart edge, nice fall color growth
Q-1-8 Peach (white flesh)
2010: This tree is quite big now, about 12 feet tall. All of the green peaches (about 12) dropped when about the size of golf balls. Minimal leaf curl and still no peaches.
2009: Great growth, healthy tree, but still no peaches. It's a light bloomer. I had this tree in my Seattle garden and it was a great producer of small sweet white peaches.
2008: white peach: vigorous growth, slow to leaf out, minor leaf curl, no fruit set.
If I stretch a bit and go with the glass half full– I say just wait until next year. Of course, I say that every year. Even without fruit, peach trees are eye candy, beautifully ornamental and almost tropical looking in habit. So here's to next year's peach crisp, cobbler, pie and jam; may it all come from my own backyard. Good growing my friends, and here's to keeping your eye on the pie — Tom.
A traditional peach pie I made, ready to hit the heat for a little crisping up and oozing out.
More photos and info:
Nursery Sources for peaches:   One Green World Nursery, Burnt Ridge Nursery & Orchards, Peaceful Valley Organics, Raintree Nursery
What I was blogging about:
One year ago: Two Peaches Are Better Than One

Two years ago: Turning a New Leaf on Chard