Last Saturday, we received our one allotted day of partly sunny weather for the week, so I feverishly begin tackling the chores reserved for outdoor duty. By mid-morning, I was ready to take a break. I thought a little respite on the hammock would work wonders in restoring my enthusiasm (and back) for more weeding, mowing, pruning and planting.
As I rounded the corner of the house, I was startled to see a sagging hammock, and by all accounts, an occupied hammock. Approaching, I wondered, who's cheeky enough to commandeer my hammock, especially as I toil in the beds beyond. Seconds later, I had my answer.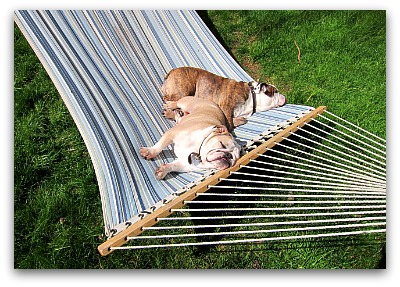 Grasshoppers, I have taught you well.
The healing powers of the hammock should not be underestimated. (Now scoot over.)