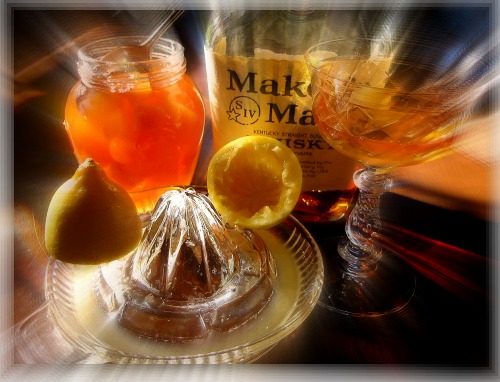 Like most men, I complain when I'm sick. (Cough, sneeze, whine, repeat.) Fortunately for friends and family alike, Boz and Gracie endure my pithy in-house pronouncements so no one else has to (that is unless you call me or knock on my door, then the next half an hour is all mine).
Sequestered to the sofa, legs locked in by two snoring bulldog logs, I yearned for the days of easy breathing and an ache-less body. (I did feel immediate improvement upon convincing Boz that my chest was not a dog bed.)  I tried to watch TV, but quickly realized that viewing more than 60 minutes of television would send me into a spiral of depression. (It seems, no one on daytime TV is happy.) Reading gave me a headache, crossword puzzles seemed futile and venturing online was short-lived. Okay now, I'm whining.
Gracie and Boz: lovable (albeit unapologetic) sofa and blanket hogs
Suffice it to say I wanted to feel better. Then, my Mom called and suggested I whip up a serving (moderation is important here) of Grandpa's cough syrup.  I remember his honey, whiskey, lemon juice concoction well;  it would burn the inner lining of my esophagus, and cause me to gasp, sweat and tremble, all before tucking me in to a berth on the Sleepy Time Express. His secret ingredient came from a country far to the north, its magical healing powers seemingly exclusive as it was called Canadian Club. (In my recipe, the not-so-secret ingredient comes from the American South and plays an equally important role in the curative nature of the Mint Julep.)
I was doubly ill so I made a double batch of this medicinal elixir and preceded to dispatch it within the hour, at which time I became particularly interested in the prismatic rainbows dancing about my study's walls.
Um, um, nothing as pretty as a round rainbow on a Douglas fir door.
Chasing rainbows or rainbow chasers?

The sun rays and show were short-lived, but then again so was my lucidity. Nap time for Tom, let the healing begin.
Recipe: Maker's Mark Cough Syrup Supreme
Ingredients:
2 T Marker's Mark Bourbon Whiskey (spring for the good stuff)
2 T lemon juice
2 T honey
1 T chopped crystallized ginger or stem ginger in syrup
Preparation:
Pick a nice glass (paper or plastic cups render the magic syrup useless).
Mix equal parts of bourbon, honey and lemon juice.
Add chopped crystallized ginger (or stem ginger in syrup) as it provides more heat.
Stir, serve at room temperature.
Say hello to better health (or at least a happier sleep).
I would especially like to thank one Matthew G. for his generous gift of fine Kentucky bourbon. (You and Marker's Mark do your home state (and Mama) proud.) I believed I am on the mends.
Related Quotes:
"Love is staying up all night with a sick child — or a healthy adult." -David Frost
"If you treat a sick child like an adult and a sick adult like a child, everything usually works out pretty well" -Ruth Carlisle