With rear-wheel drive, snow is not our friend
Life doesn't always turn out the way you initially visualize it. My teen mind daydreamed about a flat in London, friends who said, "shaken, not stirred," lunch dates with Emma Peel (replete in catsuit), and a Jaguar XKE purring in my garage. And while I'm not complaining about my current circumstances, I never thought I'd be driving a moss-covered Mazda truck with 225,000 miles on it.
In 1998, I bought Jennifer Grey, a gray 1988 Mazda truck, for $1,500 and embraced her odometer reading of 151,00 miles without prejudice. The previous owner, a navy-pilot-turned-airline-pilot, drove this reliable maven between Seattle and Portland, from home to flight base, respectively. Thirteen years later, Miss Grey is very much at home on Vashon, enjoying a slower paced life as an "island truck," carting manure, hauling garbage, and venturing into Seattle every once in while for a good mocking by 20-somethings leasing  ultimate driving machines.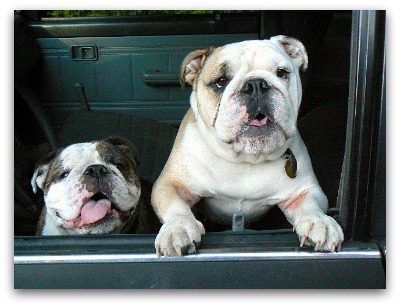 Boz and Gracie ride shotgun (photo by Rondi Lightmark)
I love my truck, as do Boz and Gracie who consider JG a luxurious (from a pooch's perspective) mobile kennel. Sure the paint is peeling, dog fur and dust consume the cab, and the driver's seat is frozen in a lift-off position, but she's mine and she runs.
Last month, I feared a chugging, labored start followed by a backfire and plume of white smoke signaled the demise of my main-transportation squeeze, make that my only transportation squeeze. Try as I did, she would not turn over. Resuscitation was futile. Even as I pushed her down the drive for a little jump start, I could sense this may be my little Mazda's swan song. Two days and a new AAA membership later, I had her towed to my favorite island garage.
Several days passed before I got the diagnosis.  ( I know better than to rush or bug my mechanics.)
The phone rings. I pick up.
"Hi Tom, Dave here, your truck is ready." (I'm gleeful. She's alive, she's alive!)
"So Dave, was it the carburetor?"
"No."
"The fuel pump?"
"Uh-uh"
"The starter?"
"Nope, you were just out of gas, Tom."
"Say what?"
"Yep, it won't run without fuel. (Ah, the set up is complete.) You can pick her up any time."
Before you judge me and question my mental acuity and mechanical ability, hear me out. First, I must have run out of gas exactly as I shut off the engine the night before. (How odd is that?) Secondly, because the gas gauge is kaput, I set the odometer's trip meter without fail after each fill-up. I should have had 100 miles to go before JG succumbed to sputtering and the vapors.
Yesterday's lesson: When a truck runs on two cylinders, it uses a lot more gas.
Today's lesson: Know when your truck is running on two cylinders and schedule a tune-up.
The happy ending: Miss Jennifer Grey is up and running and shining like the star she is, thanks to an overdue wash and trip to the tune-up town.  Now if I can just figure out how to eliminate the sloshing sound that occurs in the cab panels every time I make a turn. Did I mention it rains a lot here?
Boz points out that I should mow the grass before I wash the truck.