Autumn's bounty: a bowlful of chestnuts, a tabletop of squash
I have a thing for chestnut trees; let me count the ways.
I love the tasty nut and the porcupine casing that protects it.
I love the tree's reaching habit and stately form.
I love the way the sawtooth leaves dry to the color of tobacco
I love the nut's sweet and savory culinary applications
I'm so smitten with the tree that I've planted several different varieties on my property, most of which should begin bearing about the time I start gumming my food and asking for a walker. As an optimist, I'm willing to wait for my nutritious reward or at least leave a tasty legacy. While European, Chinese, and Japanese Chestnuts are more common, American Chestnut trees are relatively rare in North America, the result of a blight at the turn of the century that decimate stands in their East Coast range. Surprisingly, in Washington state, some trees from pioneer plantings still survive.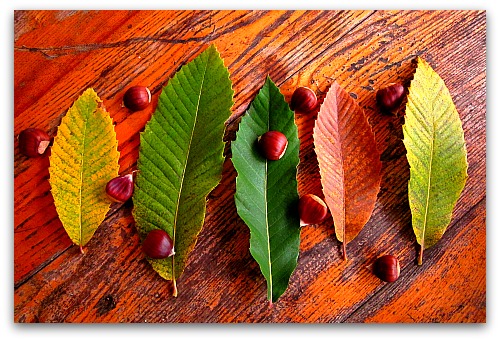 Chestnut leaves are some of nature's handsomest
Recently, at the Vashon Island Growers Association's (VIGA) annual meeting (and awesome potluck), I enjoyed chestnut butter and pumpkin dinner rolls courtesy of Jennifer from Pacific Crest Farm. The yeasty crescents were no less than divine golden chariots delivering gooey chest-nutty goodness to my awaiting piehole.  When I asked Jen for the recipe, she said, "I just pureed our chestnuts and blended some honey."
Just? Just! And maple syrup is just tree sap. What Jennier made was spreadable ambrosia.
Now on to the recipe, as made by Tom
RECIPE: Chestnut Honey Spread
Ingredients

1 pound Chestnuts
1/2 cup of honey (or more if preferred sweeter)
2 T brandy or 1 T vanilla or 2 T Glayva (all optional)
Good to know: use a serrated knife to cut a line in the chestnut before heating it. This makes the nut easier to peel, and keeps it from exploding when roasting (much like a wee firecracker).
Preparation
Cut each chestnut in half at equator, halfway down
Use serrated knife to avoid slippage
Heat water, boil nuts for 15 minutes
Remove from heat, drain
When cool enough to handle (keep nuts warm in moist towels) remove outer peels and soft paper skins
Toss nut meats into a food processor
Pulse, puree
Add honey, pulse until smooth
Add brandy, vanilla, or Glayva
Pulse mixture to fully blend
Spread on lightly buttered artisan bread/toast (or worthy vehicle).
Don't Make This Bitter and Brittle Mistake
My first attempt was an abysmal failure based on two big errors: I roasted the nuts too long and left the outer soft skin on (see photo above). I suspect granite gravel would have been softer and a glass of quinine less bitter. The brown skin pellicle (as it's called) is unabashedly bitter and must be removed. Batch two and three were worthy of human consumption, but batch one was inedible, not only to me, but to local crows.
On the bright side, when prepared right, chestnuts offer a wide variety of applications in the kitchen, from gluten-free flour, to soup, cakes and stuffing.  Did I mention they are rich in vitamin C, cholesterol free and half the calories of other nuts. And should you wish to plant one, it's majestic presence will rule over your garden and grounds for generations to come (just leave peeling and cooking instructions as a courtesy).
Related links