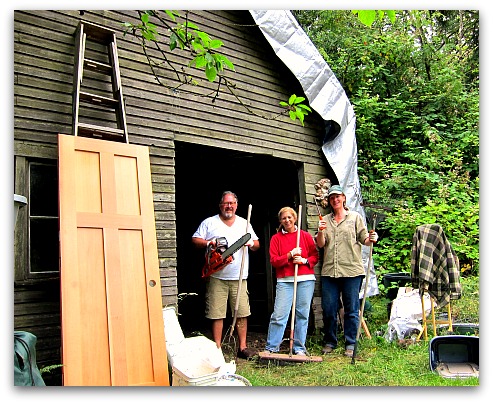 Cleaning out the barn with a little help from my friends.
Sometimes my to-do list stops me dead in my tracks. Like an overloaded freight train, the boxcars of chores sit idle,  progress stifled by whining, denial and procrastination. Hoping to inch along in the right direction, I assuage my guilt by adding ridiculously effortless things to the list, tasks I've no doubt already done, but hey, a check mark is a check mark. Oh look, I fed the dogs, flushed the toilet, made a pot of coffee, put on clothes and  brushed my teeth.  Oops, forgot to run a comb through hair (as if that makes a difference). The good news is sometimes this Thomas the (stalled) train gets fuel by helping hands.
Every summer my sister escapes the stifling heat of Florida and pays me a visit. I'm a good host, offering unrelenting Boz and Gracie love, a gently swaying hammock, well-maintained bike, cozy sunlit guestroom, bottomless bucket of raspberries and a climate where temperatures rarely exceed the mid-seventies. As a dedicated teacher, she calls my place her rehab and relaxation center. I am glad to oblige, as honestly, I'd last two minutes as an middle school teacher; the classroom would be in ruins and I'd be stuffed in a locker.
So on this Labor Day, I salute my hardworking teacher sister who on her vacation labored to help me clean out my barn. I also sing praises to my friend Tamara, also an awesome teacher, who joined in the fun and took on the role of drill Sargent ("Clean? You call this clean, mister? Drop and give me twenty!") Together, we made quick work of my cluttered, chockablock tarp-covered nightmare.  And I have the photos to prove it. Unfortunately, I forgot to take before photos, but truth be told, that's a good thing.
Gracie saunters by my 100-year-old barn, replete with its latest tarp covering. (Roofs aren't cheap) As the original machine shop, the barn now houses all of my equipment and flanks the spot where the original 20-stall dairy barn stood . As far as rainproof coverings go, the structure's been befitted with a blue tarp, encased in a brown tarp, and later re-wrapped in a green tarp. I believe its latest reflective silver cloak elevates the board-and-batten cube into architectural art. Cristo and Jeanne-Claude would be proud, I dare say.
Boz finds a comfortable spot to supervise while witnessing history in the making.
Unusually clean shelves, courtesy of two bossy girls and their tough-love tactics.
Like domestic archeologists, we unearthed some remarkable finds: a tractor, four Christmas tree stands, a farm sink, and perhaps the most indispensable thing of all…
…a tub of twenty eggbeaters. (The trouble with me and Garage sales.)