Rhubarb Pickles for a change of pace
Rhubarb pickle chips: easy to make, easy to eat.
Last Saturday, the third of July, I was enjoying a salad prepared by my friend Chris. I munched. I chewed. I loved. His fresh homegrown garden greens heralded summer with each bite. Then, like a little sparkler tucked away in the mix, a blast of flavor took me by surprise. "Chris, what the heck is that wonderful sweet, sour, crunchy thing in the salad." He answered, "pickled rhubarb, Tom."
Now I've been around the rhubarb block a time or two, and I've never had the tart stalk pickled. If I may channel my inner-thirtysomething voice, "It was flippin awesome!" Even before sopping up the last slick of vinaigrette on my plate, I knew I had to make this crispy condiment sooner than later. Chris assured me the rhubarb pickles recipe was beyond simple, and Chris is a man of his word.
My rhubarb is still going gangbusters, thanks (I think) to a cooler-than-normal summer.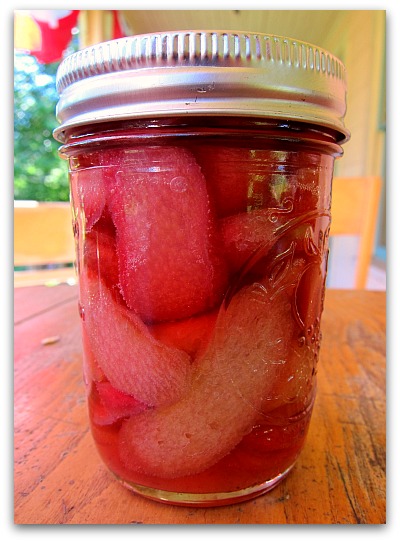 Super Simple RECIPE: Rhubarb Pickles
UPDATE July 11, 2011:  I wouldn't bother canning these as they turn slimy. Instead eat them when fresh and in season. If you want to keep them crisp like a pickle, keep them fresh in a lidded jar in the fridge. They'll keep a good long time.

Makes about 6 half pints
Ingredients:
2-3 pounds of rhubarb
1.5 cups sugar
2 cups apple cider vinegar
pinch of salt
Preparation
Clean rhubarb
Slice on the diagonal into chips (about the thickness of saltine cracker)
Place in non-reactive bowl (glass, pottery, stainless)
Add sugar, and stir to coat all pieces
Cover and let stand room temp for a couple hours
Add vinegar and stir until sugar is dissolved
Keep in the fridge
Save any extra liquid to use in salad dressings
Variations:
Add herbs and/or spices you like for a twist

peppercorns for a little heat
whole cloves
fresh ginger (I added candied ginger)
allspice berries
mustard seeds
bay leaf
If you add herbs or spices, I'd drain the liquid into a pan, heat and steep the liquid for a few minutes, then letting it cool to room temperature before adding to jars.
Rhubarb has a small fan club from what I can gather. As an acquired taste, most folks prefer it teamed up with custard or strawberries or some other flavor-diluting component to help ratchet down its strong personality. I understand, so believe me when I say, this pickle will make you a recipe card carrying rhubarb devotee.