Apple Berry Crumble Pie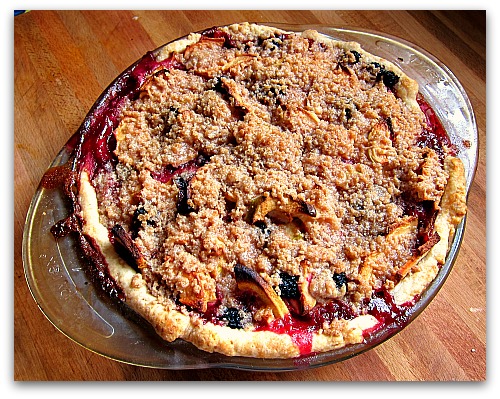 If forced to choose one dessert for the rest of my life, chances are I would respond with pie, and if I sensed leniency and wiggle room for negotiation, I'd insist on pie and ice cream. Sure, each can stand on its own merits, but when paired on the plate, there's no finer dessert to be served (at least in my humble-pie-eating world).
While I make no secret of my pie pandering and tart worship, I must apologize for going so long without sharing a worthy pie recipe for you to breeze through and serve up. And now that the last of my apples are days away from a mushy end, I shall send them off in style as filling in one of my favorite pies: the apple blackberry sour cream crumble. And dare I say, it's a pie so good you could forgo the a la mode option.
Naked pie: sweet, tart, crunchy and creamy, wrapped in buttery crust
RECIPE: Apple Berry Crumble Pie
Ingredients:
Filling:
pastry dough for single crust pie
2/3 cup sugar
1 cup sour cream
1/4 cup white flour
1 large egg
2 teaspoons vanilla
pinch of salt
5 apples cored, sliced and peeled (optional)
1 cup blackberries

Crumble Topping:

4 tablespoons butter
1/2 cup flour
1/2 cup of brown sugar
grate of nutmeg
pinch of cinnamon

Preparation: Filling & assembly

Preheat oven to 425 degrees
Line one nine-inch pie plate with dough, should overhang an inch or more
Tuck dough under rim and crimp
Mix all filling (custard) ingredients but apples and berries
Mix fruit together in separate bowl
Pour custard mixture over fruit and mix gently
Spoon mixture in to pie shell, and top with enough custard to leave half inch space below crimping.

Baking:

Place pie in oven, bake for 15 minutes
Make crumble topping: mix together all ingredients
After 15 minutes, reduce heat to 350 degrees
And add crumble mixture evenly across the top of the pie
Bake for about 35-45 minutes until firm
Let cool to lightly warm or room temperature and serve.
Refrigerate (if any is left)
The custard mixes with the juices to create a creamy sweet fruit filling.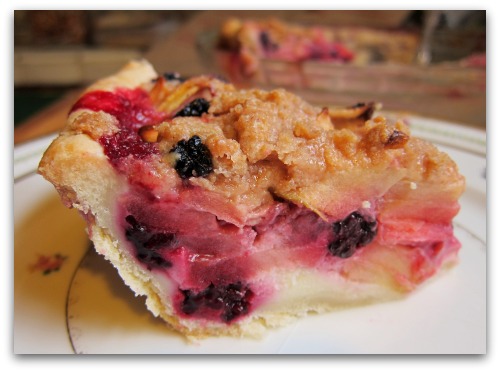 Well, maybe a little scoop of ice cream wouldn't hurt.
Bon appetit!