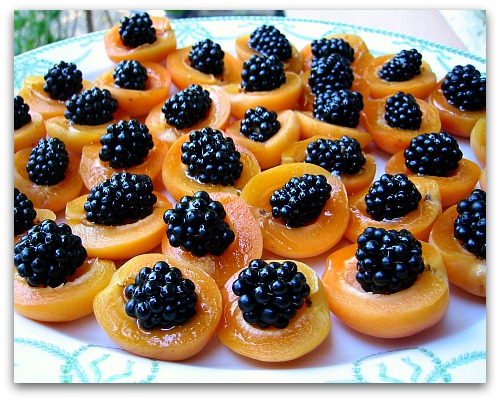 Freshly anchored: Blackberries in apricot boats
Yesterday my dear friend Julie turned 40 (such a young thing), a milestone ushered in by her close friends and husband Matt. Matty as she likes to call him (though we may not)  had planned a surprise birthday party for her at our friend Kurt's farm, as dreamy a place to celebrate on a sunny day as I can imagine. A man of quiet charm, Matt was like an anxious school boy on his first date. He worried unnecessarily, fidgeted readily and paced purposefully before the birthday girl's  arrival.
In the end, Julie was surprised, Matt was delighted and we were there to share hugs and celebrate friendships. We ate, we drank, we basked in the warmth of both an August sun and our radiant Julie–a summer memory that will carry me well through next spring.
My contribution, a dish befitting the birthday girl:  something sweet, vibrant and fresh.
RECIPE: Apricot Berry Boat Appetizer
Ingredients:
Berries (raspberries, blackberries, even sweet cherries work)
Apricots (on the small size)
Honey (or fruit jelly)
Preparation:
Slice apricots in half, remove pit
Gently toss berries in a bowl with a tablespoon of honey to coat berries lightly
If you don't have honey, heat up a little jelly and coat the berries with that, again lightly
Drop a berry onto apricot half
Arrange artfully on a plate
Optional:
Add goat cheese (get a little fancier and add a tiny dollop of goat cheese (from LaBiondo Farm & Kitchen) between the apricot and berry)
Unsuspecting Julie walking into our celebratory (albeit surprise) embrace.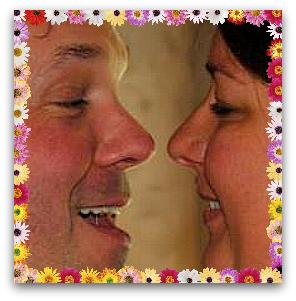 …And they lived happily ever after.