How to Get More Fruit From Your Home Orchard Trees
Talk about firm fruit! Actually these are homemade branch weights I add to encourage fruiting.
Sometimes my young fruit trees get out of line, that is they send vertical shoots to the high heavens and leave me standing out of arm's reach and picking distance, only to become a sky cafe for the birds and squirrels. In addition, most fruit trees produce less fruit on vertical shoots so I like to encourage lateral growth. As trees mature, heavy fruit will bend the branch naturally and create a better branch angle for fruit production. I just like to speed up the process and the harvest with my homemade stone fruits, which are nothing more than rocks wrapped in wire and hooked to a tree branch like a very heavy Christmas ornament.  (Think Charlie Brown tree.) Here's how you can make you own.
Since I am the thriftiest man this side of the Hood Canal, I recycle my materials from found objects. You'll need:
rocks of various sizes and weights
wire coat hangers (Calm down Christina)
wire snips and/or pliers.
Cut the wire coat hanger in the middle of the triangular base.
Straighten wire to be perpendicular to hanging hook.
How to Make Stone Fruit (Fruit Tree Branch Weights)
Position wire around middle of the rock
Choose a rock that has a dent or two to hold the wire in place
River rocks are not suggested because the smooth surface causes slippage.
Wrap wire around the rock's middle and twist very tightly with pliers.
Cut the ends off.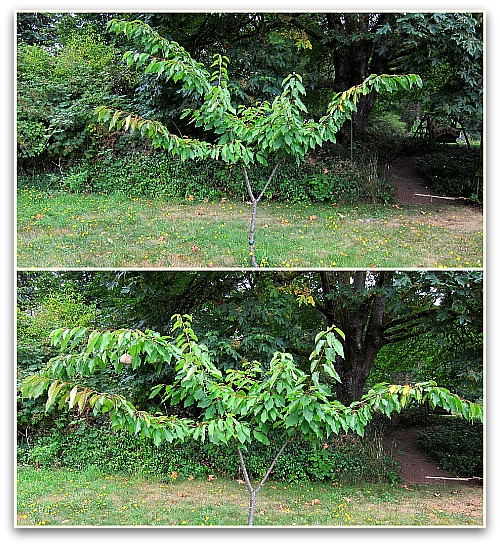 Stone Fruit Placement
In the top split photo, no stone fruit added
In the bottom split photo, the stone fruit is placed far enough out to encourage lateral bending and fruit bud growth.
Add weights after this years fruit has been picked.
You don't want the stone to create an inverted U-shape; that would cause too much stress on the branch.
A gentle lowering of the branch is the goal here. You are not trying to make a weeping willow.
Over a season or two the branch will grow into the angle created and you can remove the weights.
Remove the weights if heavy fruiting occurs as the added weight may break the branch.
Bad rock, bad: this weight is placed too far out on the limb. A strong wind or heavy downpour may cause the branch to break or the rock to slip off.
Some heavy tree fruits (like apples) act as their own branch weights and create lateral branches naturally, but trees with small fruit (like cherries) may need a little help with lowering branches.
So if you have some fruiting branches reaching for the sky, bring them back down to earth with some branch weights. A year from now, your effort will be rewarded with a tastier, more succulent stone fruit then my homemade versions. (photo: Lapins cherries)