My madrona branch fence flocked in winter white
Snow is a welcomed albeit rare visitor to Vashon. When an arctic blast ushers in a snowy blanket and enveloping hush, the island is transformed, as if the snowflakes absorb both sound and the presence of haste.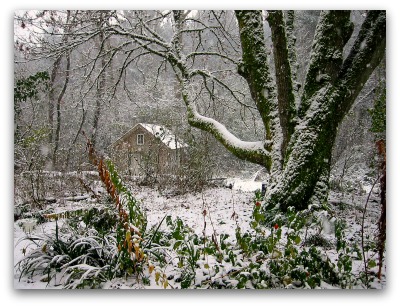 The roads are empty, the chimneys reveal the warmth within and the distant chuckles of children at play suggest all is right with the world.
The holly dons its holiday finery, the cabin oozes cozy, the fountain fights the freeze and the front porch bullies in snow-capped capes welcome guests at any hour.
So let it snow, let it snow, for the magic of winter melts all too quickly on these island shores.